Dinner in Stratford
At Marlowes Restaurant, Stratford-upon-Avon.
This is a very typical and simple English meal of roast beef with Yorkshire pudding and gravy. This is another example of 'pudding' being very different to Japanese プリン.
Gravy is one of the most important aspects of British daily cooking – we put it on almost any meat and vegetable meal. The roast beef seen here is 'just right' for the British taste, though the Japanese visitor who took this photo said it was overcooked for her taste.
こちらは、メンバーの方が行かれたストラッドフォードのレストランでのディナーで、ローストビーフとヨークシャープディング、ゆで野菜にグレービーをかけた、典型的イギリス料理です。プディングですが、日本のプリンとは異なる、もうひとつの例です。イギリス人は、肉と野菜料理にはほとんどなんでもグレイビーをかけます。お肉の焼き加減は、ちょうどいい感じに見えますが、日本人の好みでは'焼きすぎ'でしょうか。ストラッドフォードは、シェークスピアの生誕地として有名で、シアターがあり、景色、町並みがとても美しい町です。ロンドンから少し足をのばして、ぜひ訪ねていただきたいところです。
Of course, Stratford-upon-Avon is famous as Shakespeare's home.
Here is his birthplace: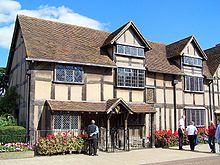 Here is the Royal Shakespeare Theatre: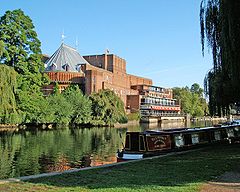 View Larger Map